The Adam Birding Conservancy or ABC for short is three years old in 2018. This page provides a little insight into the purpose, the partnerships and some of the quirky facts on the property. For an update on recent activities, please go to the "Latest News" tab on top.

This page includes:

Links to Annual Newsletter (provides good context on progress)
Mission Statement
Partnerships (the key to any successful land management plan, but especially one of this size)
The Big Bur Oak Tree (with a student essay from the tree's perspective) & the Abe Lincoln Connection
Celebrating the Home State of the Ice Age Trail with a Funky Glacial Erratic
Annual ABC Newsletters ​
The Mission Statement
To preserve, maintain and enhance a high level of sustainable ecosystem health and biological diversity for the benefit of wildlife and plant communities. This will be accomplished by applying a land management agenda relying on volunteer stewardship in partnership with the NRCS.
To provide for the enjoyment and education of people of all ages and interests with a special focus on collaboration with students and faculty from the University of Wisconsin-Whitewater and youth from the surrounding schools in the Walworth and Jefferson County areas. ​
Partnerships (making Progress Possible)
With over 330 acres, partnerships are key to helping control invasives, provide for quality habitat for animals and plants and a scenic setting for nature lovers. This section calls out the individuals and organizations who have offered advice, labor or financial assistance with the Conservancy.
A hearty thank you to all of you!








Family - including my wife Kathy who lets me spend time on this project; my brother Mike Adam, a true biologist (unlike me...a banking guy) and my sons Derek & Mitch.
The Prairie Enthusiasts - Incredibly nice group who share ideas, advice, beer and have provided labor and seeds to improve the prairie quality. Thanks Zach, Michelle, Walter, Alice, Kim, Dale & many others!
The NRCS/USDA, especially Gretchen & Mark, for their assistance in orchestrating the 2017 burn and for seeking future help in rebuilding parts of the dike and adding water control devices to help regulate water levels.
Neighbors Rich & Brenda for mowing trail paths and Byron for mowing the open high ground.
Trapper Tim for keeping the muskrats under control.
UW-Whitewater and UW-Madison's many professors and their students who are conducting experiments on herptiles, on aerial mapping, on creative writing and much more in the years ahead. As a UW-W alumni and father of a UW-Madison grad, Go Warhawks & Badgers!
Dan the Birdman for putting up a kestrel box and helping offer some birding advice.
Mr. Drost for taking care of the land and having the foresight to put it in a permanent protective program in 2010.
Quirky Facts & Interesting Insights
This large Bur Oak tree along the Inner Peace trail may have been mentioned in the original 1830's surveyor notes done when Wisconsin was laid out in squares or sections (see below, third line from the bottom). The ABC land borders three "sections" with the property along the Bark River noted as "impassible marsh" with the land further south called "2nd rate timber" and "an oak prairie".
The tree itself has a DBH (Diameter at Breast Height) of ~ 140 inches and is majestic. Future plans call for culling many of the maples and cherries that are crowding out the canopy of this Burr Oak as well as several other large burrs and hickories in the woods.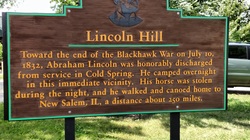 The "Abe" tree is in recognition of the possibility that our 16th President may have crossed paths with this large burr oak. In 1832, Abe Lincoln was within a few miles of the ABC as part of a US military commitment tracking and eventually attacking the Native American forces led by Black Hawk in what became known as the Black Hawk war. This sad story in American history involved three future American Presidents (Zachary Taylor #12), Abraham Lincoln (#16) and Jefferson Davis (#1 Confederacy) as well as unsuccessful Presidential candidate Winfield Scott. All from a force that probably never got above 5,000 soldiers and militia.

Lincoln had been a clerk in a store in New Salem, Illinois when he enlisted for service. Elected captain by his fellow soldiers, his short military career was notable for his unruly troops. He was twice forced to wear the wooden sword, a sign of humiliation for the misbehavior of his men. The sign above notes the location near the ABC where Lincoln had his horse stolen after he had mustered out of service. Abe and a companion walked to Peoria where they canoed down the Illinois River to Havana, trekking through prairie to get back to New Salem, Illinois.

In 1848, Lincoln made fun of his service in the war by stating to Lewis Cass, a hero from the War of 1812: "[Did] you know I am a military hero? Yes sir, in the days of the Black Hawk War I fought, bled and came away. If General Cass went ahead of me in picking huckleberries, I guess I surpassed him in charges upon the white onions. If he saw any live, fighting Indians it was more that I did; but I had a good many bloody struggles with the mosquitoes, and although I never fainted from the loss of blood, I can truly say I was often hungry."

From: Bates, Milton J. 2012, "The Bark River Chronicles: Stories from a Wisconsin Watershed", Wisconsin Historical Society Press, Madison.
---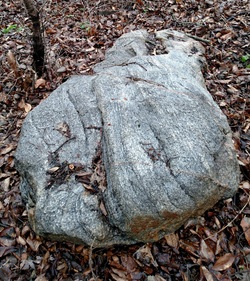 Close by Abe in the woods is Big Foot Rock, a glacial erratic that measures almost five feet long at the surface and was likely deposited as part of the last (Wisconsin) glaciation phase about 10,000 years ago.

Toenails up close, heel to the rear in this photo.

It would have been nice to have had land on the Ice Age Trail, Wisconsin's 1,000+ mile trekking route that meanders along highlights of the great glacial features of this state. Sadly, the ABC is too far north by ~10 miles. Big Foot is stepping in as a substitute.
---