Join the ABC Club - No Obligation
To Gain Tramping Privileges & be made aware of Volunteer Opportunities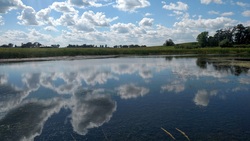 The Adam Birding Conservancy ("ABC") is on private land, most of which has a permanent easement established by the Natural Resources Conservation Service (the "NRCS") of the US Dept. of Agriculture. The NRCS dictates some do's and don'ts. In addition, the Adam's want to maintain good relations with the neighbors and the preservation partnerships that have been established in an effort to enhance the property for the enjoyment of all - people, wildlife, plants and trees.

To meet these objectives, this page includes a Code of Conduct Access Form that needs to be reviewed and agreed to prior to permission to tramp on the terrain. Your name and basic contact information will also be collected to update you on changes to the visitation practices and a totally optional check-box to hear of volunteer opportunities.
We won't sell your information or hassle you for money.
---
Adam Birding Conservancy Code of Conduct Access Form

All guests of the Adam Birding Conservancy ("ABC") must abide by the following rules to protect the natural environment, wildlife and the rights of others. Access privileges can be modified or taken away at any time.

I. The Hold Harmless Clause for Legal Purposes:
The ABC is an undeveloped parcel of land that contains man-made and natural obstacles and settings that could lead to injury. By accepting this agreement, I (We) assume all risks associated with any activity on the property and do hereby release the ABC and its owners, agents and assignees of any and all negligence.

II. Permissible & Prohibited Activities:
1. Permissible activities include birding, hiking and canoeing/kayaking.
2. Prohibited activities include hunting (guns, bows, trapping, etc), camping, motorized activities (ATV, motorbikes, etc.) and picking of fruits, flowers, wood and any other items.

III. Courtesy Clause for Neighbors & Other Guests:
1. Behave in a common sense manner that will generate goodwill with all guests and neighbors. This includes:
a) Do not venture into private property.
b) Use care when gathering in groups near roadsides. Park along the side of the road and do not block the road or any driveways with your vehicles. Minimize door slamming and other loud noises.
c) Practice common courtesy in contacts with other people and keep noise to a minimum.

IV. Respect Wildlife:
1. No hunting is permitted.
2. When observing wildlife, you should act in ways that do not endanger their welfare. This includes:
a) Avoid chasing or repeatedly flushing birds.
b) Observe birds from a safe distance by using binoculars and spotting scopes. If the animal shows signs of stress, then you are too close and should back away.
c) Keep an appropriate distance from nests and nesting colonies so as not to disturb them or expose them to danger.
d) Please avoid bringing dogs on the property.
​
V. Be Good Stewards of the Land & its Plants and Trees:
1. Stay on existing trails and pathways whenever possible to avoid trampling or otherwise disturbing fragile habitats.
2. Leave all habitats in as good a condition as you found them or better.
3. If you discover interesting species, please let us know (using the contact form below).

VI. Endeavor to Enhance the ABC Environment:
1. Leave no garbage.
2. Take only pictures. Pick no plants, berries and remove no wood or other man-made or natural items.
3. Report items of concern (using the contact form below).
4. If you are birding, please consider reporting your findings to eBird. The larger the corpus of data, the better we are able to manage the property for the future.
5. If you wish to help manage invasive plants or have other suggestions, please let us know!



If clicking on the form does not return a message on the bottom, my apologies. Still having probl​ems getting this process to work, please e-mail me at 4 d a v e @ w i . r r . c o m. Thanks.
---